Review & Photos: Leftside in Wuppertal, Germany 1/31/2013
02/01/2013 by Lea Yeah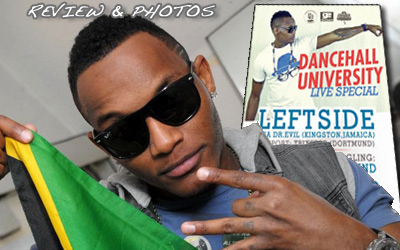 Leftside in Wuppertal, Germany @ BloomClub 1/31/2013
After a warmup by German dancehall-newcomer Trixstar, and a few sets played by the hosts of the night, Running Irie Soundsystem, Craig Parks a.k.a. Leftside entered the small stage of Bloom Club, Wuppertal (Germany) at 00.15am in the morning of 1st February 2013.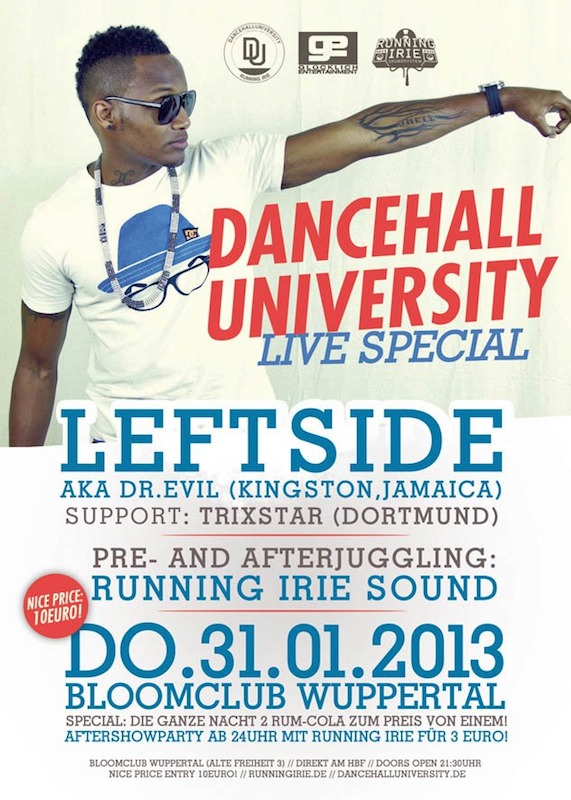 Especially the female part of the audience (which was obviously the greater one) seemed to be enthused about the entrance of the fancy dressed beau. First track 'She Wah My Buddy' couldn't have been chosen more properly and also the following tunes 'Wine Up On It', 'Tuck In Yuh Belly' and 'More Punnany' didn't leave any doubt that Leftside is a ladies man, remarkable not only for his lyrics but also for his performance including some daggering action on stage with a blonde Dancehall queen.Thematic tunes dealing with the ladies-topic dominated the whole night. 'Ghetto Gyal Wine', 'Supermodel' or 'Phat Punnany' (combined with the remix 'Want Yuh Buddy') were well-received by the audience.

When Leftside started performing 'Suck Yuh Mumma', the rude bwoys among the visitors also showed some big respect by giving huge forwards. When the artist got out his alter ego Dr. Evil, with the same high vocal pattern as the famous rascal from the Austin Powers movie, the show climaxed. The crowd followed Silva from Running Irie (who entered the stage waving a towel) by going crazy while Dr. Evil performed 'Nuh Way'. Leftside took his chance to pay homage to Vybz Kartel and Buju Banton by demanding the release of the two jailed artists.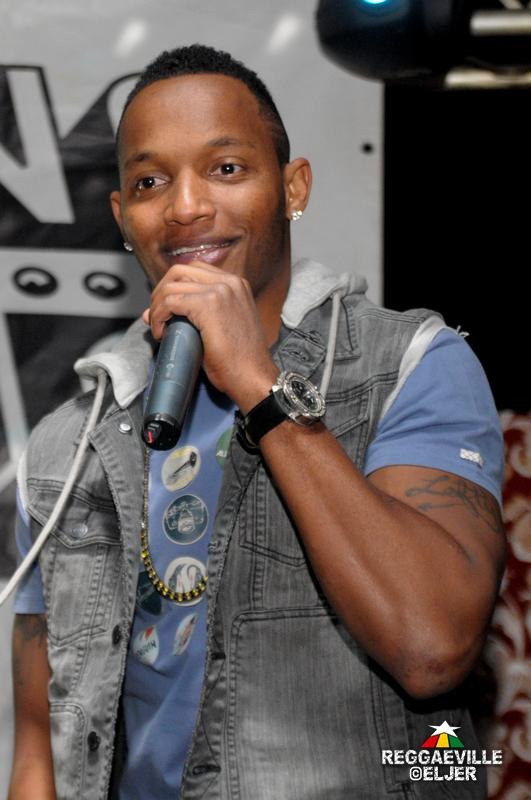 The crowd seemed to share his opinion. Signaling the end of his gig in a humorous way, Leftside a.k.a. Dr. Evil gave 'Mi Tyad' as his last song, followed by the encore, 'She Nuh Wah'.

All in all, the artist showed his versatility as entertainer by changing from war- over slackness- up to bashment- tracks without losing his special kind of cheeky humor and the trustworthiness that he really means what he's singing or toasting. Furthermore, Leftside aka Dr. Evil belongs to the rare examples of artists whose voices sound mostly the same live as recorded. Although the nicely priced (10 euros) show didn't take too long, visitors left the place without the feeling of missing any of his hits.

Leftside hung out in the Club after his gig for more than 45 minutes taking photos and chatting with his fans. His approachability could be caused by the fact that he feels very comfortable staying in Europe and is looking forward to his next shows, as he told Reggaeville after the show.