Video: Kabaka Pyramid @ Back-A-Di-Yaad in Kingston, JA 2/12/2012
02/17/2012 by Munchy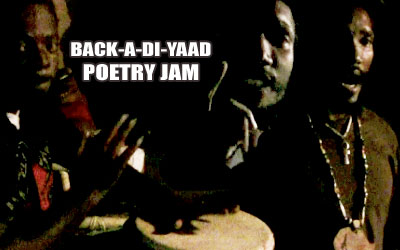 On Sunday February 12 the new poetry jam series Back-A-Di-Yaad kicked off with its Black Cherry Edition in Jack's Hill.
The intimate atmosphere at the private venue overlooking Kingston suited the passionate performances perfectly and created a unique vibe among both patrons and performers.

Besides the poets Sniper, Dexta Malawi, The Roses, Lesley-Ann Wanliss, Jamel Hall and the Father of Jamaican Dub Poetry Oku Onoura, singer Kabaka Pyramid felt the vibe and did not miss the opportunity to perform a medley supported by Omaro Mazlyn from The Order of the Drum Circle.
watch the video here: