Concert Review: Kabaka Pyramid in London, UK 11/8/2015
11/10/2015 by Angus Taylor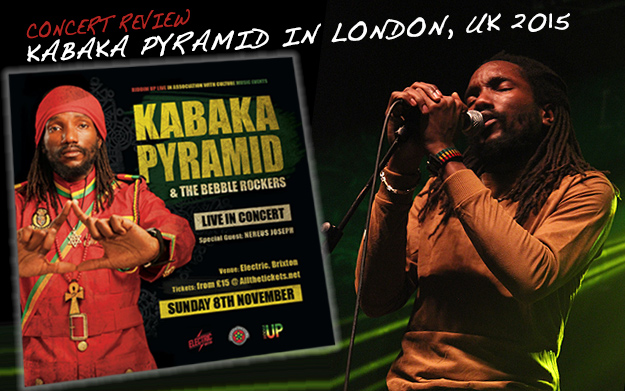 When Kabaka Pyramid last performed in Brixton at the Hootananny in April 2014 he said he'd felt unwell. Yet he still fired up a three-quarter filled venue with his poise and wordplay.

For his second visit - this time bringing his own Bebble Rockers band - he closed a 5 date UK tour in similar fashion at the much larger Electric. Again, the place wasn't full, suggesting there is more work to do in terms of raising his profile. However, single billing shows have long been a risk in London - Bunny Wailer couldn't fill the same location; although Chronixx could, his and Kabaka's new reggae community comrade Protoje followed him there alongside Rodigan, Congo Natty and Toddla T. And those who attended on Sunday will be going away and telling their friends that reports of Kabaka's lyricism, scathing commentary and presence are "accurate" (to quote the man himself).


Rather than one support act for the whole tour, each venue hosted a different artist. Birmingham got Randy Valentine; Sheffield YT and Congo Natty. The Electric had East London/St Lucian roots crooner Nereus Joseph, who sang to a backing track. His winning grin and catalogue including Soul Rebel, Guidance and Kultural Herb went down well. Unfortunately he also went down, tripping over while exiting the stage, but laughed off his tumble like a pro.


A lengthy changeover of nearly 40 minutes followed, so the Bebble Rockers took their stations only one hour 'til the 11pm Sunday curfew. Compere Prezident Kennedy provided a humorous interlude when he asked three members of the group to play a solo to earn "a Brixton pass".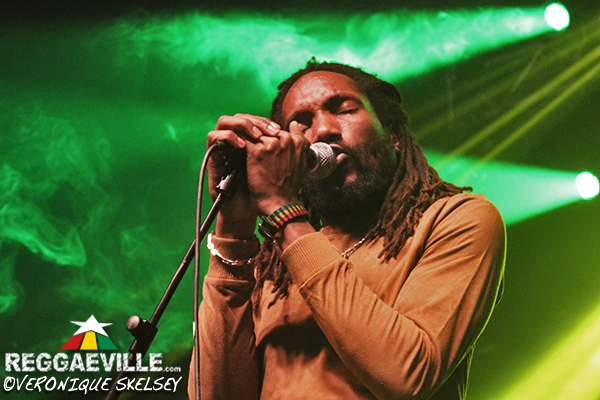 Kabaka then appeared, wearing a tan suit, Wallabees and diamond socks - which he later proudly displayed. After a strangely tentative Never Gonna Be A Slave and No Capitalist - that segued into Peter Tosh's Coming in Hot - he and the band gelled for Jah Sun feature Foundation and kept the momentum all night.

Like most participants in the purported 'revival' movement, compared to the high-kicking Bobo roots of the 90s, there was little actual movement on stage. The velocity came via the speed of 'Baka spitting lyrics. He would hush the musicians midway through a song to explain the thinking behind it – anti-capitalism, environmentalism, his admiration for Marcus Garvey and Tosh - before firing more volleys of thrilling interlinked invective verse.


Another refrain was his repeated linking to the works of his contemporaries. "Any Protoje fans in the place?" he asked, introducing their combo Warrior; "Anybody love Chronixx?" prior to Mi Alright, with the other part sung, accurately, by bass player Craig Higgins. He even covered the aforementioned artists' own collab Who Knows; and jumped from his The Revival, on the Birth Of Reggae Music/Bad Boy rhythm, to Protoje's Resist Not Evil. A smart way of reaching the hit hungry London audience that also showed the unity of his collective.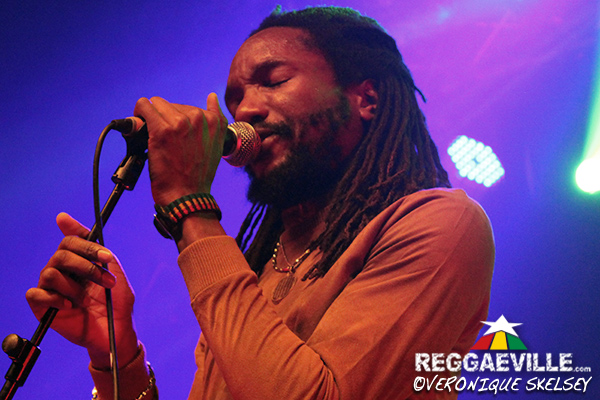 "We don't have a whole heap of time because we start the show late" he said, noticing he had 15 minutes to go. As a result Lead the Way and Liberal Opposer were truncated.

Yet he still took time to tap into his generation's key influences. He demonstrated a rock-stone delivery unheard on record by switching the up-tempo Lock Down Di Place to Capleton's Slew Dem and Jah Jah City and Sizzla's To The Point. Damian Marley-produced single Well Done began with a suitably sarcastic speech to the JA government ("They've done a great job of tearing down this little island's resources") and ended as Damian's Welcome To Jamrock and Ini Kamoze World a Music.


"Now you know why they call him the lyricist of the new reggae revolution" said Kennedy, who earlier had been winding up Tottenham fans in his Arsenal shirt. Kabaka is a big football fan too, and as this concert shows: he understands that it's not how you start a game but how you take control.


PHOTOS BY VERONIQUE SKELSEY