New Facts about Bob Marley's Father!
11/06/2012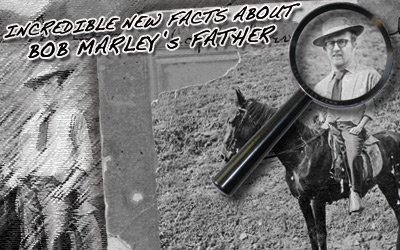 This is breaking news for real about Bob Marley's father. Famous for their weekly reggae & dancehall radio show and known as a Sound System, Jugglerz were able to get an exclusive story about the real identity of Bob Marley's father.
This story is so sensational, that it's hard to believe... read it below and make sure to tune in to the upcoming Jugglerz Radio show on thursday at 8:30PM (EST) @ JUGGLERZ.de, as there will be surely some more info about it.
Incredible new Facts about Bob Marley's Father!
Scientific research reveals astonishing information on the icon's background.
In the recent motion picture on Reggae-Superstar "Marley – The Movie" a photograph surfaced that shows Norval Marley, allegedly "The King of Reggae" Bob Marley's Father. But scientists of the Faculty of Applied Sciences of the University of Cluj-Napoca in Romania discovered astonishing news about the Jamaican icon of modern popular music.




"It is shocking and irritating, but at the same time it explains a lot" comments David Pryczic, supervising analyist of the faculty. His team of seven students and graduates had found out that the picture had been retouched and altered shortly after it was taken. Pryczic explains: "In the early years it wasn't common for a British official to be engaged with a simple Jamaican woman, especially not if he already had family back home. So the picture was altered by exposing it to light twice to add a different face to the body. It is what we would call a 1945 version of Photoshop." After the academic team had realised that the picture was nothing but a photomontage it was their task to find out who originally had been photographed – and thus is Bob Marley's real father.

The scientists used modern carbon dating technology to disintegrate the different layers of the picture. "We had to work very carefully" says Pryczic. "It's not like you scrap off one layer and below you would find the original picture" he explains. "You have to reconstruct the original dots that had been imprinted in the photo emulsion by the first exposure. This is possible today thanks to modern digital technology, but even five years ago we simply would have destroyed the picture. But now we have found out this incredible news, which puts European Reggae on a completely different status!"

The team could not believe what they had found out – Bob Marley's real father is no one else but British Reggae DJ-Legend Sir David Rodigan!


MOVE YOUR MOUSE OVER THE PHOTO TO ZOOM THE FACE!

"There is no doubt about it" states Pryczin, "age, posture and digital analysis tell the truth." David Rodigan has always been very communicative on stage about his experiences in Jamaica in former times, but he obviously always left out this little amarous acquaintance. Reconstructing, the affair probably took place when David Rodigan was playing at "Knickerbockers Thursdays" a – back then very popular – Street Dance in the Parish of St. Anns, Jamaica. Just like most DJs he was impressing the female patrons with his 1 hp vehicle, but after that night he had never returned to the cottage in the small village in rural Jamaica again.

"This changes history dramatically" says Pryczin. "David Rodigan being a legend in his own right plus being the father of a legend makes him somewhat of a super-legend!" The reactions in the music business are widespread: Mick Jagger, Lead-Singer of the Rolling Stones tried to claim Justin Bieber as his son in an attempt to get a fraction of "Roddi's" current hype. Rihanna announced to work on a combination-Refix of "We found Love" with David called "We found Bob". Even Platinum-selling DJ Skrillex was so overwhelmed by Rodigans achievement that he would leave the Dubstep business to David Rodigan – out of respect.

David Rodigan himself still neglects the situation by stating "It couldn't be my child – I've been using Vybz Kartel's Daggering Condoms from 1930 so it cannot be mine." The results from the DNA-Test are still to be published.

Article used with permission from jugglerz.de