SummerJam 2011 - Reggaeville Report DAY ONE
07/02/2011 by Valentin Zill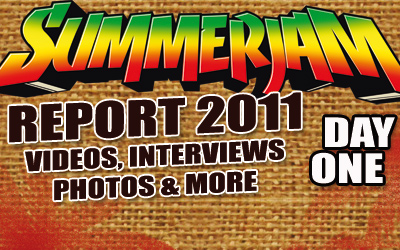 Review: SummerJam 2011 Day One
The first day of Europe's biggest reggae festival - it is already its 26th edition in 2011 - was a condign kickoff. Although the weather was windy and unsettled, to say the least, some of the artists managed to bring out the sun we are used to shine over Fühlinger See a.k.a. Cologne Bay.

Sara Lugo had the honor to set the vibes right for this year's edition. The rather cold temperatures were soon forgotten when Munich's best took to the Green Stage. While the audience seemed a little tired initially, they soon woke up and got dancing. The sun came out for the first time during the first bars of Part Of My Life. In the audience: Daddy Zigo of Greenyard Records, who composed the riddim. He would later play drums for Dub Inc, with Moritz "Da Baron" von Korff on bass. He gets the big up for the next riddim Sara sings over. Umberto Echo on the mixing provided for nice dubs, adding aditional spice.

Next up on the Green Stage were Austrian reggae kings Iriepathie. Their nice set took a while to get the crowd moving, but was far from being a let-down.

On the slightly bigger Red Stage, today's first act well worth seing was Dutch number one Ziggi, now working under the name of Ziggi Recardo. He promoted his new album of the same name. It was his fourth time in Cologne, and he has earned a surprisingly big fan base. Second up was Jamaica's first lady of dancehall, Cecile. Backed by the German Soulfire Band, she turned up the heat. Unfortunately, John Holt's show got cancelled. As Andrew Tosh was scheduled to play with his backing band, Duane Stephenson and Tarrus Riley let the Bush Doctah's son sing two tunes to pay tribute to his seminal father. Duane pleased with his sweet signature soul reggae style. He might not be the most entertaining artist, still he upgrades every festival's line up. Travelling with their Black Soil band was Dean "Cannonball" Fraser. May this genius never give up touring! Tarrus has long earned a huge, faithful massive that covers almost any sane distance to see him perform. His show was definitely among Friday's highlights.

The party in front of the Red Stage finally kicked off with French superstars Dub Inc. A short survey by Bushkour showed the large percentage of French sistren and breddren in the audience. So French was the mostly used language for communication, with a few sentences in English every now and then to keep the non-French-speaking people up to date. No problem, as music transcends borders, and Dub Inc is the very best prove for that claim. Their different cultural and musical backgrounds make up for the hottest fusion sound in years, and it is not only the author's first choice for partying bad. A special SUMMERJAM highlight was No Doubt, for which Tarrus Riley came on stage.

At the same time, the Green Stage was in the hand of one of the wickedest artists from outta yard. Busy Signal burned down the house. For the fans of original Jamaican music entertainment, his show was the one not to miss out on.

Barrington Levy was a much more than condign headliner for the Green Stage. One classic followed by the next, including all his biggest tunes. Those who came late had a hard time finding a spot where they could hear and see well enough. Fighting your way through the crowd was well worth. Barrington Levy's first show in years in Germany!

Ten thousand screaming girls and men desperately trying to hold their girlfriends - Friday's headliner is known as, you guess it, Patrice. He grew up with the SUMMERJAM, and the SUMMERJAM grew with him. This regular visitor never fails to deliver.
SUMMERJAM 2011 DAY ONE - PREVIEW
Friday, July 1st 2011: SummerJam 2011 kicks off!
The 26th edition of SummerJam promises to be a good one with a very strong line-up for the first day:
Barrington Levy
Busy Signal
Tarrus Riley
Duane Stephenson
John Holt
Andrew Tosh
Dub Inc.
Patrice
Ziggi Recado
Cecile
Dub A La Pub
Iriepathie
Sara Lugo
We will report from the Fühlinger Lake in the north of Cologne, Germany for the next three days! The entire festival area is crowded with fans from all over europe since many days.
Like the previous years it's RaggaKings who stream live from SummerJam. Listen to the shows in the Dancehall Arena on friday and saturday via RAGGAKINGS.net
Check out the first galleries from thursday RIGHT HERE