Review & Photos: Jah Cure in Hamburg, Germany 10/30/2014
11/03/2014 by Gardy Stein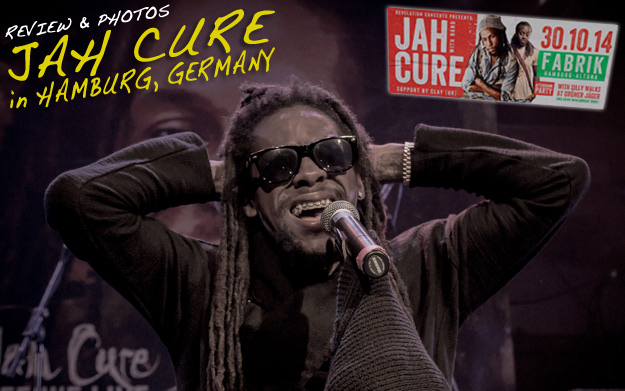 Jah Cure in Hamburg, Germany plus opener Clay @ Fabrik 10/30/2014

"Und jedem Anfang wohnt ein Zauber inne, der uns beschützt und der uns hilft, zu leben." (poem "Steps" by Hermann Hesse; translation: For each beginning bears a special magic that nurtures living and bestows protection.)

Witnessing a new beginning, as aptly captured by German poet and author Hermann Hesse in the above quote, inheres a special kind of magic. Whether it's the birth of a child, the first sprouts in spring or the release of a new album, there always seems to hover a touch of divinity over such inceptive events.

In this spirit, around 400 people took the unique chance to experience the opening show of the current European Tour of Jah Cure. Entitled Life We Live, performances are scheduled in Netherlands, Sweden, Norway, Finland, Belgium, Switzerland, France and Austria. In good old Germany, where the artist and his crew landed last Thursday, Hamburg was the first stop.

After Oli & Joscha (hosts of the official aftershow-party, by the way) had played a fine selection to warm us up, the duo introduced Clayton Morrison a.k.a.
Clay. Opening act of the night, he is the freshest pick of Silly Walks' bunch, a young artist currently based in London who, up to now, has lent his songwriting- and producing skills to others. Good thing he decided it's time to put his solo career first! In songs like Shadow After Dark, Inseparable or Only Love (on the recently released Clock tower Riddim) he proved his abilities as singer and performer. Announcing a special treat dedicated to "The One", Clay even sat down behind the keyboard once, playing us I Love You, a song that is just a sketch not yet recorded. Sweet! After about half an hour he finished what was his "first official show ever", as Joscha revealed later on.

Meanwhile, the stage was buzzing with activity. Chris (Revelation Concerts) and Jaszol (tour manager) as well as some local technicians quickly took care of the last modifications so that, only 15 minutes later, the Iyah Cure Band could take their places. Named after the label Siccaturie Alcock a.k.a. Jah Cure had founded years ago. Due to a last-minute occurrence, the guitarist couldn't be with them, something that in no way diminished their performance. Quite to the contrary, it was refreshing to see a set-up a little bit out of the usual! Drummer Ortel "Sala" Clarke, bass player Damian "BassLine" Gordon as well as the two keyboarders Orlando "Bounty" Vaughn and Llamar "RiffRaff" Brown initiated the music we were about to experience.

After a short instrumental intro, percussionist Denver Smith announced the background singers Tamekia "Tammi T" Moncrieffe and Ruel "Klyve" Moncrieffe. The two of them did three quick covers, Here I Come and Sorry, for instance. Polite applause followed, which increased when Denver did a lively Djembe solo. He then took the mic again, asking us if we were ready for the artist: "The singer is waiting, the people are waiting, the band is all set – so let's go!"


And there he was! Dressed in black from head to toe, Jah Cure rushed forward to the sound of Stronger, freeing his long dreads and touching the hands of his front row fans. He smoothly moved on to Sticky and Jah Bless Me, two wonderful tunes that did however not move the audience the way they should. Some first reactions were perceivable when the artist pulled up Divide And Rule to pass his greetings to the people. His clear yet craggy, fragile yet strong voice carried us through his creations (Sunny Day, You'll Never Find and That Girl, to name but a few), pausing in between to tell us "In Reggae Music you hear Jah!" or "Respect to those who came to see Jah Cure first!".

Title track of the current tour and first single of the highly anticipated new album due next year, Life We Live is just one of these magic tunes… I highly recommend both song and video as a cure for depression, heartache and bad mood: "Turn the world off and the music on!" Definitely turned on were the ladies when Love Is started to play, more than one pair of eyes fixed not on the singer, but on Denver and his slinky movements. Their screams compensated at least partially for the otherwise much too silent crowd. Actually the lacking enthusiasm of the people was the only real drawback of the evening. Songs such as Call On Me or From The Heart just have to be sung along loudly!

Reaching True Reflections, its well-known words created a goose bump-moment, not only because of the touching vocals but also because of the inherent authenticity, even though the lyrics were not by Jah Cure himself. Proceeding on to Trodding The Valley and Same Way, Siccaturie paid his respects to Malcolm X, Martin Luther King and all those who made Reggae music big, especially his mentor Beres Hammond and – of course – Bob Marley. Call me a dreamer, but in moments when he laid aside his mic to dive into the music and dance, he resembled this master not only in appearance but also in movements and posture!


Almost at the end of the set by now, Longing For finally evoked a more agitated movement in the crowd, and the sheer beauty of Unconditional Love touched everyone present. After this exceptional artist expressed his love and gratitude once more, he left stage to frantic applause while the Iyah Cure Band kept playing. When they followed him and the clapping slowly faded, a vibrant man in his 50s took the mic, saying "Hold on for a minute!" He apologized for not speaking German, even though his last name implies that his ancestors must have been from here. He introduced himself as Gary Himelfarb, better known to many as the dedicated Doctor Dread and new manager of Jah Cure. With a little help from the audience, he managed to bring the artists back on stage, so that we were able to enjoy Searching, Who The Cap Fit and What Will It Take as a goodnight-treat. Before leaving stage for good, Jah Cure invited his fans to visit him at the merchandise stand in a few minutes.

Jah Cure has been blessed with many new beginnings, not only in his musical work, but also in his private life. Marriage in 2011, the birth of his baby girl in 2012 – asked whether these events changed his way of conceiving music, he said: "Of course my family inspires me. But I am still Jah Cure, you know, following my mission… I like to spend time in the hills too, farming, being in contact with nature. That's my thing!"

As the tour continues, he expects to touch many new fans throughout Europe. With this humble attitude bare any arrogance, his beautiful songs and his outstanding voice, this should be a goal easy to achieve. May the magic that dwells in this beginning bestow protection and nurture the life we live!