Review: Jah Bouks in Hamburg, Germany 7/18/2014
07/21/2014 by Gardy Stein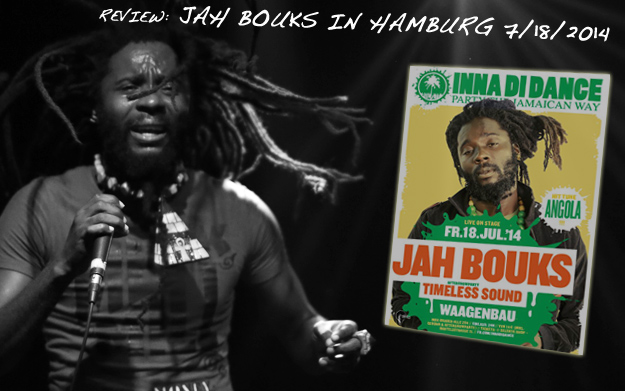 Jah Bouks in Hamburg, Germany @ Waagenbau - July 18th 2014

As I would say…

Actually, it was much too hot to spend last Friday night indoors. Every public park, Beach-Club and beer-garden in Hamburg was cram-full, and parties were literally brought to the streets in order to catch the little breeze there was and avoid being trenched in sweat. The only reason why around 200 people nevertheless did enter Waagenbau was the long-awaited presence of Worin Gerol Shaw aka Jah Bouks. After a first date had to be cancelled due to Visa problems three weeks ago, Inna di Dance had luckily managed to find a quick alternative to bring the Jamaican artist to our attention.

Good things come to those who wait! That's not only true for the career of this extraordinary singer (who had his breakthrough last year at age 37), but also for this very special summer night. At 2 am, Jah Bouks was announced by accompanying Timeless Sound and entered stage shortly after.

Starting with Hot It Up (honestly, there was no need to get any hotter!), the usual readjustments of light and microphone took their toll on the track, at the end of which everybody had taken their place in front of the stage. The artist went on with a few songs that will hopefully be purchasable soon (e.g. Mama's Daughter, Going Home, Cry Fi Di Youths, Vital), but somehow he seemed a bit lost up there all by himself, the delivery a bit too bumpy to really make an impression on the audience.

But before anyone could turn away head-shaking, a wave of excitement gripped the crowd when the well-known notes of Buffalo Soldier stroke. And, while covering that song, Jah Bouks finally seemed to arrive, to grow and to gain in presence. Freeing his dreads, he started to move and jump on stage, displaying his abilities as both performer and actor, prompting the audience to cheer excitedly when the song finished. Carrying these vibes over to the following Let Me Go, the artist spread his wings and flew right into the hearts of the people present. With exactly the right mix of interaction and performance (of which juggling the mic was only one part), he managed to keep attention high throughout No Slave and Naa Go Jail, whose lines "Mi naa go a jail wid Ganja no more" were frenetically celebrated.

The subsequent Equal Rights saw another increase in energy – no wonder, Peter Tosh being the declared favourite singer of Mr. "Boukie" Shaw. "Just make sure you're always true to yourself!", he advised us while the last notes of the tune subsided. How truly his next song had been anticipated by the crowd showed their reaction to the intro of Angola. The place became a boiling-pot with everyone shouting, singing along, pull-ups and ting… I guess you can imagine how crazy that was. The singer's attempt to say goodbye and leave stage resulted in instant "Jah Bouks!" calls, so that he came right back for another round of Angola, at the end of which he announced his last song as a dedication "to di dawtas dem". With the soft I Am Gone he finally disappeared after almost an hour of music.

Those of you who have missed the show (or who simply didn't get enough of this cutie) will get the chance to see him in a few places before his current tour ends – Jah Bouks will be performing at Reggae Jam next week, in the UK and in Poland. Patricia Zyon Panton, his mother and manager, also announced the release of the ready recorded Album for later this year. Just a little more patience… Iley!