Review & Photos: J Boog in Anaheim, CA 12/31/2013
01/06/2014 by MaryJane Irie Femind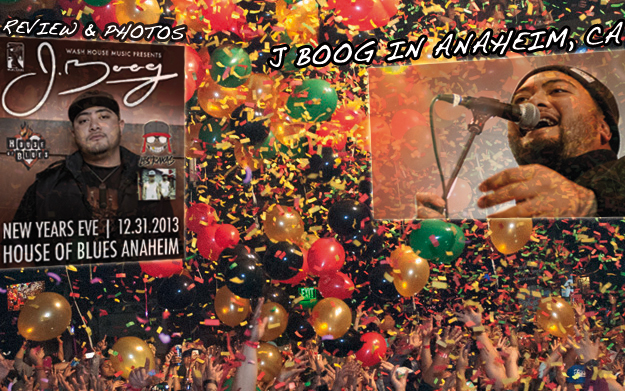 The House of Blues in Anaheim California celebrated New Year's Eve December 31, 2013 by presenting J Boog. The show was a success with a packed house of approximately eleven hundred fans. J Boog is well known for his R&B vocals and Samoan island influence. He was raised in Compton, CA a city that was put on the map in the music world by a gangster rap group called N.W.A. From their achievements other urban artists began to share their music. Many songs expressed the struggles of a Los Angeles lifestyle in territorial environments. J Boog has definitely put his music first and his street life as his past. His image is not far from home wearing his blue jeans, blue chucks, and a beanie on his head. His voice speaks for itself with lyrics about falling in love and loving that one special person with passion. Love is ultimately the reason why he performs. Love for his fans and love for what life has provided for him. It's amazing to hear how he makes a song a passionate experience of love, struggle and strength that moves people when it's heard in a reggae rhythm.
 
The House of Blues is a concert venue with a second floor balcony overlooking the stage while food and drinks are being served. The first floor is standing only and with the crowd J Boog brought, there was literally only standing room. The first act was Bayonics a ten piece band influenced with a jazz reggae sound and R&B Hip Hop vibe from three main vocalists. The second act before J Boog was Los Rakas a hip hop duo that included a DJ. Their rap songs were English and Spanish sung with instrumentals of a Latin American influence. The crowd enjoyed the Bayonics and Los Rakas entertainment both coming from San Francisco and Oakland area.
 
11:30pm hits the clock and the curtains open once more making the crowd roar with excitement. The MC of the night pumped the crowd up as they waited to see J Boog walk on stage. Not yet has he appeared for his fans and all you see is his formally new band called Hot Rain originally from Oahu, Hawaii. A drummer, two keyboardists and a bass player stood grounded focusing on the fan's reactions to their Island sound. This young band obviously caught J Boog's attention enough to bring them on tour with him.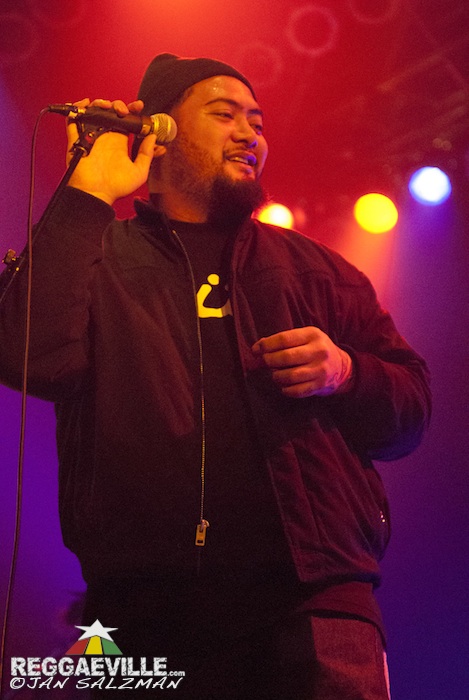 11:45pm the crowd gets a glimpse of J Boog as he walks on stage and immediately the crowd's roar begins to echo. His fans consist of all ethnicities and ages. You can feel and see that J Boog is a star in their eyes. First song performed was Give Thanks a song from his 2011 Backyard Boogie album. Singing and giving thanks to Jah with lyrics that tell you what kept him focused. Singing "Jah never let the street life get the best of me; Him blessed me with lyrics to set me free". This type of lyric and many others spoken by him are touching the hearts of many that go through the street life struggle but with music you can overcome.
 
More of his music is being sung back by his fans with much warmth and excitement. Popular tunes that J Boog gave homage to due to their popularity and love for the artist included; MaryJane by Rick James , Bomb Buds by DJ Quick and Ganja Farmer by Marlon Asher. The clock is about to strike twelve and J Boog counts down the seconds and as 2014 begins he starts the New Year by singing his 2010 hit Let's Do It Again. His performance went for a good hour and at 12:45pm he finishes off with a song from his 2011 EP called Every Little Thing. A New Year with new music from J Boog is on the rise so play close attention so you can be the first to listen to his irie reggae jams.

VIEW THE PHOTO GALLERY HERE