Review: Iriepathie in Hamburg, Germany @ Knust 2/23/2014
02/25/2014 by Gardy Stein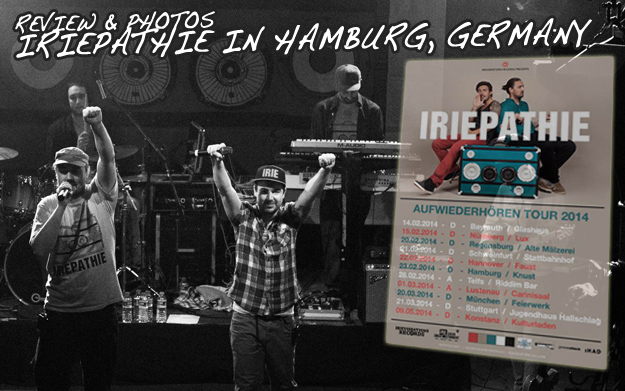 The wise Austrian writer Adalbert Stifter once said "We are in dire need of family in these times." ('Die Familie ist es, die unseren Zeiten nottut.'). And even though he was born more than 200 years ago, this quote has lost nothing of its trueness – quite to the contrary. Family is an essential bond, a prerequisite even to satisfaction and happiness, and it is unfortunate if not dangerous that it has become neglected and undervalued in the so-called "developed" or industrialized nations.

It was thus a wonderful experience to feel the pure family vibes brought to us by Iriepathie last weekend. Having moved the crowds in places throughout Germany during the past weeks, the band reached Hamburg on a particularly sunny Sunday to rock the Knust.

Just before the show started, Reggaeville was able to talk to the brothers Professa and Syrix, founders of the label Irievibrations Records (celebrating its 10th anniversary last year) and focal point of the group Iriepathie. It is almost impossible not to succumb to the sevenfold charm of these young men, especially if you find yourself in the middle of an animated discussion in broad Austrian dialect of which you understand maybe half. And being able to witness an intimate ritual like the circle of power that unfolded before our eyes backstage, there is not much that could make the evening any better – speaking of family vibes!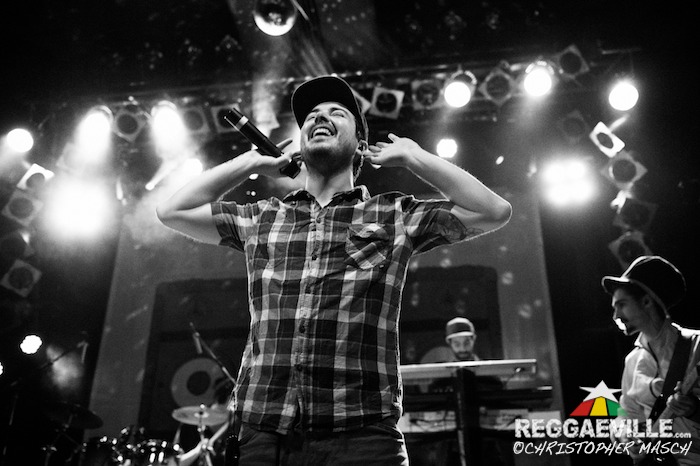 But of course, the evening did get better. A lot even. Starting off their show with 10.000 Headz, it was their famous Ich Tanz Die Ganze Nacht that ignited the dancing fever in those who had come. For whatever reason (be it the sun, the Sunday or the fact that David Rodigan had kept people awake until early morning the night before), it was less than a hundred, but it doesn't really matter how many people were or were not there if everyone present enjoyed a special moment together. And according to Syrix, that's all that matters: "Our performance doesn't depend on the amount of visitors. No matter if there are 5 or 5.000, we always do our best, because that's what our fans deserve."

Hence it was into an overall familiar atmosphere that the brethren dropped old classics such as Steht Auf, Hand Zum Himmel or Wieso, as well as songs from their new album Auf Wiederhören (eponym of the current tour), including Laufen, Ich and Wie Farbe. Even the malfunction of Professa's In-Ear during the first 5 or 6 songs wasn't derogating the show at all; casually commented upon by the singer, it was calmly and professionally fixed by band-technician Matti, who – according to Syrix – is the most important person on tour anyway.

A special highlight was of course the boom-tune Laut Sein (originally recorded with Irie Révoltés), which turned the stage into a buzzing playground with everyone not glued to an instrument jumping and having fun. When it turned into a wicked Dubstep Remix (which is available as a bonus track on the digital version of the album, by the way), the massive joined in the good times, skipping and skanking along. During the subsequent Sensimilla, local hero Ray Darwin had a short guest appearance and sang a little freestyle on a live dub mixed by Matti.

The high quality musical delivery of the instrumentalists along with the relaxed interaction between both the band members and the audience succeeded to let this show become one of these intimate little concerts that make you feel part of something special. As Syrix put it: "The nice thing about small audiences is that we can see every single one of you!".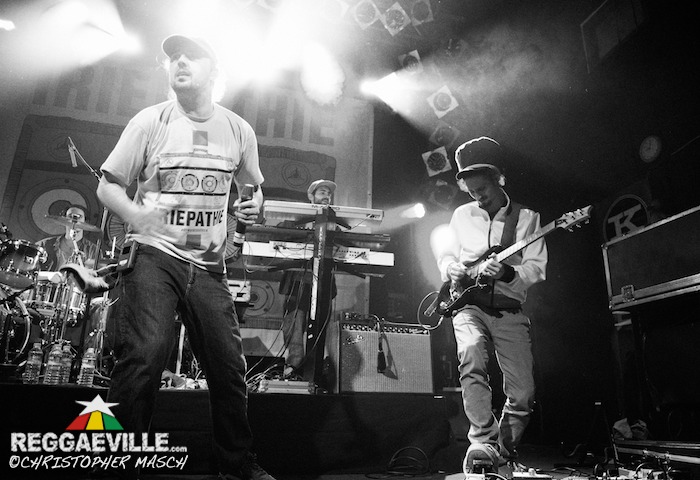 In a playful mood by now, Professa used a lengthy intro to the song Marianne to introduce the band members: Paul on the drums took the lead, rolling from One Drop into Rub-a-Dub, joined by Matzl on keys and Daniel on guitar (actually a member of Martin Zobel's Soulrise Band, substituting for the absent Mr. Fex), finally completed by Baumi with his 6-string-bass. With Auf Wiederhörn and Dankeschön, the team players finally left stage, just to reappear on the merch-stand for a chat and autographs. Apart from this inherent amiability, it is certainly the authentic and uplifting lyrics that make Iriepathie such a pleasure to listen to – and to watch them perform!

Having started this review with a quote, I'd like to add another one before closing: "The best things in life are friends that are like family, and family which is like friends." (unknown). It is about time we take a minute to reflect on the value of the people who brought us here and accompany our lives. More than anything else, it is them that count, not the things we own or desire. Family vibes!

VIEW THE PHOTO REPORT BACKSTAGE & ONSTAGE HERE