Review
Album Review: iLLBiLLY HiTEC - One Thing Leads To Another
03/23/2017
by Gardy Stein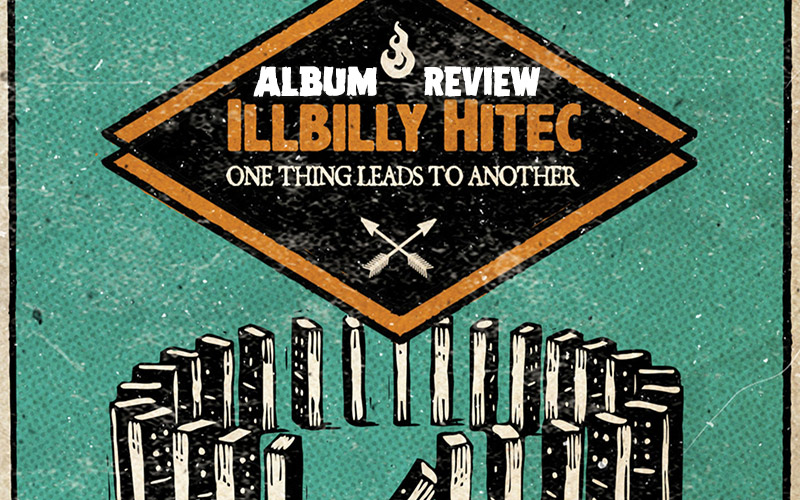 Off we go!!!
You better hold on tight when you press play on iLLBiLLY HiTEC's new album. From the first track Rude Boy Talk, which is the second single out and up for a remix-contest, to the last note, the Echo Beach release One Thing Leads To Another sets an impressive pace, energetic beats and, most of all, an excess amount of BASS!
The German band formation around Alex "Tourstress" Brechow has branched out for this one, combining the mastermind of producer Jesse "Dubmatix" King with an illustrious array of international vocalists. Most of the songs feature Kinetical, an Austrian newcomer who has already toured excessively with the iLLBiLLYs last year (unforgettable their performance at Ostroda Reggae Festival!). Other new names on the scene outside their base UK are Gardna, who revolutionarily rocks Real, and Parly B, who brings the cumbianesque Blaze alive with a Suku-like vibe. "Close your eyes, feel the vibes, let the bass-line guide you!"
Of course, the HiTEC home-MC Longfingah can't be left out, and in Way Up he makes clear that nothing can stop his way to the top. Lovers of Jungle should be satisfied with the Fleck remix of Happy; the resistless original with Horseman and Kinetical reminds me of a slow version of Seeed's high-spirits-hit Riddim Nr. 1. A smoother sound is laid out in Seven Seas and Better Recognize, on which Daphne Bluebird breathes her soft voice.
Another plus: the lyrics are highly topical, picking up current issues such as the 'Welcome Refugees' theme in No Borders (featuring Promoe, Kinetical and Em Wan) or the stark contrast between voracious consumption and poverty in We All Are Poor, to which a special touch is added by Fli Supertramp. And even though I'm not a fluent speaker of Spanish, the beauty of Arte Del Silencio translates easily from the mouths of craftsmen HanIvan and Lengualerta.
Dubmatix, who has exclusively produced the riddims together with Alex, closes with the twelfth and last track, a fine remix of No Borders, again stressing the importance of its message.
As its predecessor Reggae Not Dead, the album is basking in the glory of the exceptional art-work of Gran Om, both making it an eye-catcher and giving their releases continuity. Continuing interest is something you should definitely invest in these exciting musical Reggaetronics – they'll be touring Europe during the next weeks, so make sure you catch iLLBiLLY HiTEC live!
---
Release details
iLLBiLLY HiTEC - One Thing Leads To Another
DIGITAL RELEASE / CD / VINYL [Echo Beach]
Release date: 03/24/2017
Tracks
01. Rude Boy Talk ft. Kinetical
02. Real ft. Gardna & Kinetical
03. Way Up ft. Kinetical & Longfingah
04. Blaze ft. Kinetical & Parly B
05. Happy ft. Horseman & Kineitcal
06. Seven Seas ft. Kinetical
07. We All Are Poor ft. Kinetical & Fli Supertramp
08. No Borders ft. Promoe, Kinetical & EmWan
09. Silencio ft. Lengualerta & HanIvan
10. Better Recognize ft. Daphne BlueBird
11. Happy ft. Horseman & Kineitcal (Fleck Remix)
12. No Borders ft. Promoe, Kinetical & EmWan (Dubmatix Dub Remix)
Featured artists
Longfingah
/
Dubmatix