Review: Rockers Rockers Rockers Festival in Paris 4/25/2011
05/02/2011 by Wally Fall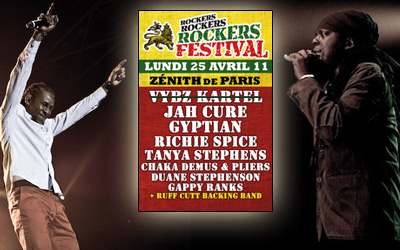 Reggae Music Rocks! - Rockers Festival, @ Zénith in Paris, France 04/25/2011


Last Monday was the very first time (in my whole life!) I arrived to a show before anything had started on stage. Even though I had already read about Vybz Kartel not getting his visa for Europe I was, unconsciously maybe, hoping that after not having turned up in Rotterdam the day before, the French customs which are known in the whole world to be so much cooler than their European counterparts, would have flown a private jet to Kingston, Jamaica to have him in Paris that night. Well, when I got to the venue's entrance, I rapidly read on some wall posts that Kartel wouldn't be around again, to my great disappointment of course. Not that I am a huge fan of his music and somehow poetic lyrics but I wanted to see for myself what he's like on stage. I guess French customs are not as cool as they used to be back in the days. Shame on them!

But it's all right cause I when I look again at the line up, I can't help but smiling to myself : Even without Kartel, considered by many to be the best thing that has happened to Dancehall in a long time, there were still too many artists whose songs had been in my head at some point in more or less recent years.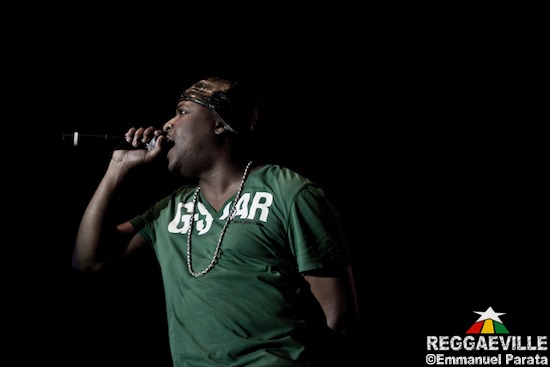 The talented Gappy Ranks is the first one to burst out on stage. Although he's on backing tracks, the energy is there and the attitude too for his first performance in Paris. Two days ago, I was in Harlesden, North-West London, home of Gappy in one of the many street parties thrown out throughout the country to celebrate Kate & William's not to be missed royal wedding. It was a pure Reggae sound system though and I wish the royal couple could have played at least one of the tunes I heard there after the ceremony and danced along in the street near the church. Sorry I'm getting carried away here. Harlesden street parties like these are mostly community gatherings around Reggae music. You can see grandmas dancing next to young children. Or uncle and nephews at the decks playing tunes on loud speakers. Even in London you cannot see that very often, except during Notting Hill Carnival. So no wonder that's where Gappy comes from. Some of his tunes are already classics and he enjoys being on stage. Hits like Longtime and Heaven in Her Eyes wake up an already boiling warm massive. But it's really the last tune Stinking Rich, pulled up twice that really sets the people on fire and ready for the rest of the show.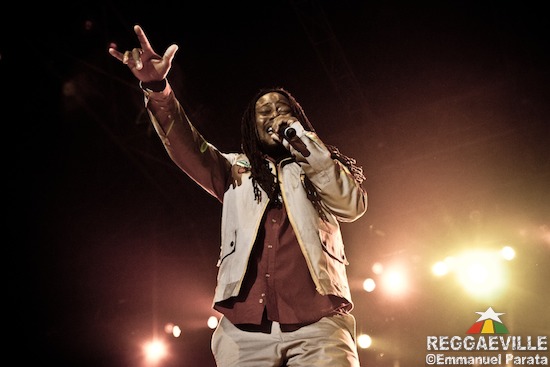 And there comes Duane Stephenson, who is for me one of the most significant revelations of the last 3 years in Jamaica. The voice is pure and he fills the whole stage with his presence without moving that much. I love roots and conscious Reggae music like the one Duane is delivering so perfectly. You understand now how he got to write lyrics for some artists like Luciano or Jah Cure. There is something of Lucky Dube as well in his singing that send shivers down your spine. Especially on the powerful August Town. Watching around me, all I can see are closed eyes and nodding heads. Some women have an indescribable smile stuck on their face that won't leave for the rest of the evening. I don't really know how long the veterans Chaka Demus & Pliers hadn't been on stage together, at least in Europe, but they look even happier to be here than us to have them in front of us. As soon as they start, I'm propelled over ten years backward seeing myself listening to their tracks over and over again from the high school time in Martinique up to parties when I was a student in France. Memories and emotion are relatives as we all know and I cannot help but having that same smile I was telling you about a few lines before.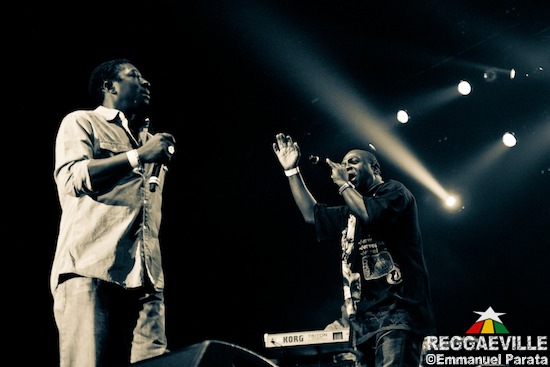 Would be too long to tell about their hits cause all the tracks they play were hits at some points. From Tease Me to She don't Let Nobody every body know the chorus. But when we hear What a Bam Bam followed by Murder She Wrote introduced by its so famous base line (pulled up maybe 5 times!) that's the only time of the evening I will see absolutely every one without any exception jumping, screaming and shouting the chorus. People are happy to be alive to see this probably once in their life. And like a warmed-up dinner from the day before it tastes probably better now.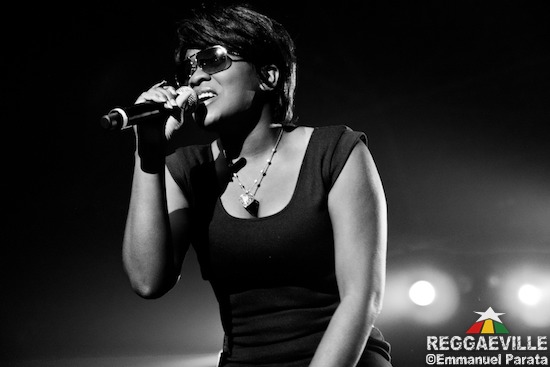 Tanya Stephens is the only female artist of the evening and she's probably the best choice to balance the show tonight cause she has the shoulders wide enough to wear the women voices on her own. She starts the show with a medley of undisputed hits like Handle the Ride, Yuh Nuh Ready Fi Dis Yet, Goggle, Can't Wuk Me No More just to set the record straight. Tanya loves Paris and Paris gives it back to her to the thousands. In between the tracks she performs, Tanya tells us about the many different ways she loves the men and how well she knows them always in the most realistic way. She says it just the way it is even if the words have to be explicitly raw. Sometimes she Can't Breathe, then she warns them about These Streets and when timing seems not right she just rightfully and wonderfully tells them It's a Pity.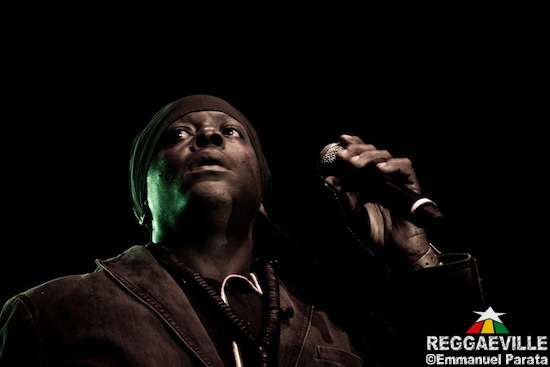 Seeing Richie Spice on stage is a spiritual journey. When you see him just after his older brother Pliers, the link and inspiration become obvious but that's it. Richie brought something else to this music. Heart ah Run Red is an anthem for peace that grabs you from your inside. Black Woman from his newly released album Book Of Job and the hit Brown Skin are made out of the same fabric. Youth Dem Cold is one of those songs that you think you've always known. Again there is a stylish economy of movement with Mr Spice and a restrained energy unleashed only in appropriate times. This is one of the signs of the greatest for me. I never stopped dancing during his show.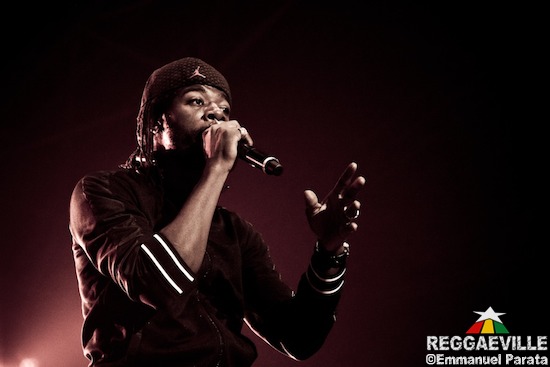 Gyptian and Jah Cure closed this wonderful Rockers Festival with performances tailored mainly for women I think. Although Gyptian managed to keep some stuff for everyone in the audience, Jah Cure took his shirt and tee shirt way too early for me, even though there were no doubts that the ladies were Longing For him since the very start. Seeing the screaming female fans becoming hysterical as soon as they touched his hands was fun though. Gyptian displayed a powerful show though having lyrics and vibes for all his fans and and even proper roots tunes for people like me. He rightfully kept what was probably the most talked about planetary hit of 2010 Hold You, for the very end, leaving the stage to Jah Cure. As I said Jah Cure was there for the ladies and the ladies for Jah Cure. That same smile was still up on the faces but the eyes were open this time not to miss anything.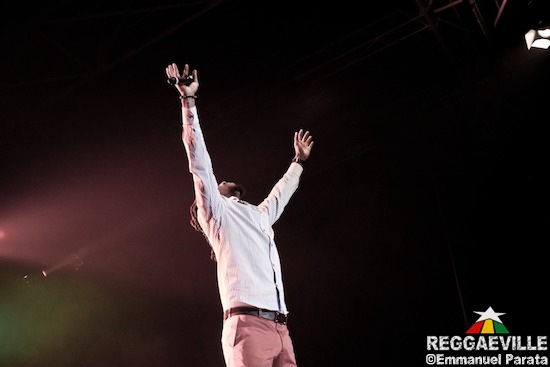 I can hear them telling me I'm just jealous but I can live with that. Truth is that I probably listened to Never Mind as many times as they did at least, at home or stuck in the traffic in Paris. But I was surely not thinking about Jah Cure at that time. Maybe if I was a woman I'd understand but unfortunately I'm not. Undoubtedly though, Jah Cure and Gyptian are two of the biggest artists in the Reggae music industry right now. And they showed it once again at this Rockers Festival.