Review & Photos: Gappy Ranks @ 10 Years Massaya Extravaganza 8/17/2013
08/22/2013 by Gardy Stein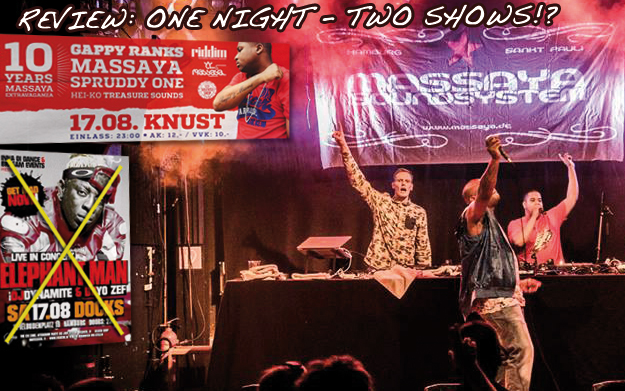 ► PHOTO GALLERY HERE

"A Midsummer Night's Dream" could be the subtitle of last weekend, which brought a festival flavor to Hamburg, Germany. Friday evening, Dubmatix & the Irie Ites Crew abducted us to a boat-ride on the Elbe, before we danced the night away at Treasure Sounds' Rocksteady-Party with Panza in Hafenklang. Saturday had a heavyweight schedule, too (of which a Voodoo-Dance, Gappy Ranks & Elephant Man were the announced highlights), so one was well advised to sleep long and gather strength.

For an early start, King Kong Disco and Remedy Sound joined forces to offer a tropical escape in the cozy beach club Sterngarten from 4pm. A chill spot "deluxe" in the heart of Hamburg's Schanze, it was a great choice to pick up a festive mood, and it really felt like taking a trip to some tropical island – sand, sun, drinks, finest Caribbean music and a bunch of friends to hang out with. Perfect intro for what was to come!

Biking through the city jungle, it took us only 5 minutes to reach Knust, where gates were duly opened at 11pm. Nobody was in a hurry to get indoors, though; most of the early visitors made themselves comfortable on the plaza outside of the location to enjoy the mild weather. Good thing the doors were left ajar, so that the sounds of Hei-Ko's Rocksteady warm-up could be heard loud and clear!


As more and more anniversary guests kept arriving, attention was shifted to the main stage where the Massaya Crew (Semik, Trappa, Roman, Till & DJ Smart) assembled and took over the controls, sending out a warm early welcome to "our friends and soundsystem family" who had come to celebrate their 10th birthday (yes, there was cake and candles and... a plant).

At 1:45am, local artist Spruddy One entered stage and presented a 40-minute program with very danceable tunes ranging from classics such as the Cherry Oh Baby Riddim in Never Ever to Supersonic productions like Nothing But Love and fresh songs from his upcoming album for which he linked up with Jr. Blender. Both his brilliant vocal style and his charming interaction with the people (he kept narrating little anecdotes) created an anticipatory atmosphere into which, around 2:20 am, main act Gappy Ranks made his appearance.

The London-based artist started his show with the well-known Mountain Top, bringing those who had until then stayed in the background to the front. Celebrating famous Studio One, he delivered a kind of Live-Massaya-Dubplate on the tune Put The Stereo On, inducing movement to the crowd. This increased with Pumpkin Belly, of course, while The Rain enwrapped the place in a lover's mood.

A seamless transition, Butterflies made people lift up hands and lighters before the celebrated Heaven In Your Eyes saw the first pull-up of the night. Starting anew, he had background-singer and DJ Andrew (selector @ Java Nuclear) pull up again and listened how the massive finished the chorus for him. Vibes!!! As the riddim went on, Gappy brought it home with a cover of Marley's I'm A Rebel, people singing along fervently.

Up next were two songs from his upcoming album Shining Hope (release date: September 17th), namely Up Again and the title track itself, a beautiful and uplifting piece on the Lighthouse Riddim that was favorably received by the crowd.

The pace accelerated with tunes like Da Herbs Deh, Girl Next Door and (of course) Stinkin Rich. Bashment time! The singer's movements to the Joyride Riddim were so contagious that the whole place joined in the wining, spurred on by the bass of the next tune.

Longtime was well known again by the crowd, who was rewarded for its cheers with a pull-up and Promo-goodies. The famous "Shalalalalaaa" then announced Thanks & Praise, a tune that made the people go wild and move closer once more. Soaked in sweat by now, Gappy Ranks made an untimely disappearance from stage, but the shouts of the spectators quickly brought him back and he presented his dancing skills on the Punnany Riddim of Tsunami. Followed by Police & Informer and Cup Full, this talented young man left his audience with the positive vibes of Could A Runaway.

Thus charged, people were ready for more and Massaya rocked the party accordingly with the vigor they are known and loved for. From deep down their decennial treasure-box, rare tunes as well as fresh dub plates were excavated, making their guests sing and shout and dance with joy.

Around 4am, I felt obliged to leave this merry anniversary in order to attend yet the last part of the threefold Reggae-load, since Elephant Man was scheduled to start his show at the Docks Club around that time. Before I had completely left the Knust premises, however, word reached me that he won't make it – appearance cancelled in the last minute!


In order to understand the implications of this outcome, let's take a closer look at the circumstances: Originally planned on the 16th of August, Ele's show in Antwerpen was shifted to the 17th about 2 weeks ago, even though this date was already booked and confirmed for his concert in Hamburg @ Docks. Although recent information from various sources points to intentional fraud, it seems like his manager planned to do both shows in one night, bringing Ele to Hamburg after the Antwerpen show would be done (he is the Energy God, after all, and even sent a video message announcing his appearance). However, owning neither private jet nor helicopter, this plan predictably failed and left a major crowd waiting in vain. A crowd which, for obvious reasons, would have fared much better to spend their evening enjoying the Gappy Ranks show! Had the unwritten law "first come, first served" not been broken in the first place by cramming a second act on top of an already existing date, the Knust would probably have been sold out, enabling both guests and hosts to enjoy a really fulfilling night. Hopefully this incident will result not in hard feelings, but in better communication and joint event planning in the future. Two major Reggae-Acts should definitely not clash on one date, even in Hamburg!

As in the above mentioned play by Shakespeare, things don't always work out as intended (although in our case, there are no fairies or magical juices that complicate the matter). Well, that's life! The inveterate optimist in me claims to see the positive in any situation and let bygone be bygone, as Buju Banton put it. Actually, the good thing about Elephant Man's continuing absence was that I could return to the Massaya Extravaganza, join friends & family on the dance floor and indulge in a bacchanal frenzy of motion till dawn…

Watch a statement by Elephant Man about the Hamburg cancellation below: