Review: Michael Rose, Etana & Romain Virgo in Berlin, Germany 2/19/2015
02/24/2015 by Gardy Stein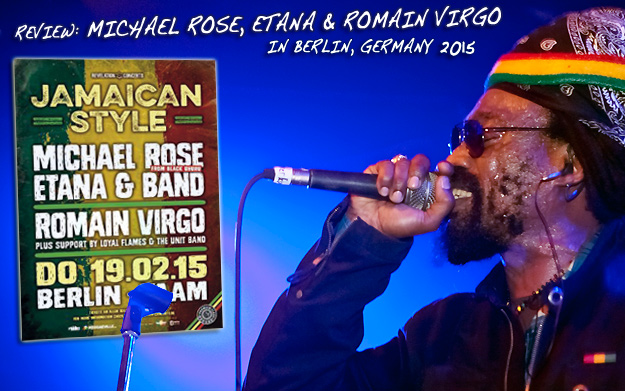 "Berlin are you ready? We have a big package for you tonight!"

With these introductory words, last Thursday evening was announced just before it took off at 9:45pm. My own safari had started a few hours before in Hamburg, boarding the bus that brought me to Germany's capital. A few minutes walk from Berlin Ostbahnhof, the new Yaam now welcomes its visitors in a large hall plus yard - and what a welcome it is! Descending from the bustling big-city-streets into the area flooded with colour-changing lights is like entering another world. To your left there is a crafts tent, selling all kinds of goodies and beaming a nice selection through its speakers. To your right you'll see the glittering reflections of the above-mentioned lights on river Spree, rolling along languorously. On its bank, just in front of the artfully decorated external wall, folks entertain a bonfire that sends its sparks to the sky, and some of the arriving visitors huddle around to catch a glimpse of its warmth.

When finally doors open at 8:40pm, everybody hurries inside to find a spot under the large gas heaters on the ceiling. It is cold! I enter the location with the awe-inspired feeling of amazement new places always put me in. This Yaam is large, it can hold up to 1000 people (I am told), of which not even half (approximately 350) turned up to see the three Jamaican superstars lined up tonight. Which brings us back to the quote at the beginning…

The moderator asks for a round of applause for the Unit Band who just entered stage and play a rendition of Crazy Baldheads: Dario on guitar, Gregory on keys, Ricardo on drums and Dale on bass, with birthday-girl Karene doing the background vocals. He then goes on to present us the first artist of the night: Romain Virgo!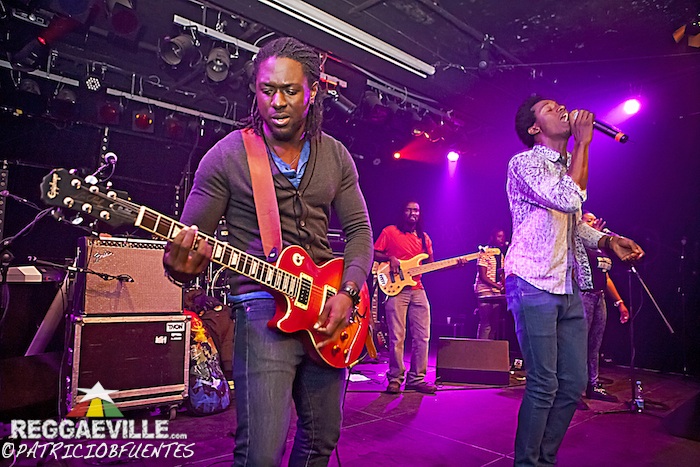 The singer appears with a big yellow scarf around his neck (even the backstage is cold), starting his set with Boops, Rain Is Falling and Taking You Home, at the end of which jacket and scarf are giving way to the rising heat. Especially the females cheer his every move, and Virgo has no problems at all to reach the audience with his celebrated hits Love Doctor (first pull-up) or Beat You Down. When he reaches Rich In Love, I take a look at the faces around me and see only smiles. That's what events like this should be like - no bad mind, just rich in love & positivity!

Romain powers on, covering Tarrus during Everlasting Love, Sam Smith (Stay With Me) and, later, Buju (Love Sponge) in his wake, followed by some brand new stuff. Fade Away, for instance, or the possible title track of his next album, Star Across The Sky. Further goosebump-moments are Soul Provider and The System. Somebody is asking me what I'm writing, and, as I tell him, wants to know which grade I would give the show. What? I point out to him that it's not about judging a performance but valuing the experience the singer creates so we can share it and the guy nods, deep in thought.

Mr. Virgo is in his finals by now. He reminds us that it's the Black History Month, starts to sing We Nuh Worry Bout Dem and leaves stage but is brought back quickly, mashing it up. Collecting his applause, he and the Unit Band then clear stage for the next artist.

After a 15 minute change over, the Soulrebel Band (orchestrated by engineer Jason Sterling, they are: Prince on drums, Stephen on bass, Kevaun on guitar, Spider on keys and background vocalists Roxanne Prince and Keddy-Ann Batson) take their places and play an intro of - guess what? - Soul Rebel. Etana enters stage and shines her light on us with some spiritual consciousness to start with (Selassie Is The Chapel & Jah Chariot), moving on to social consciousness in On My Way and People Talk.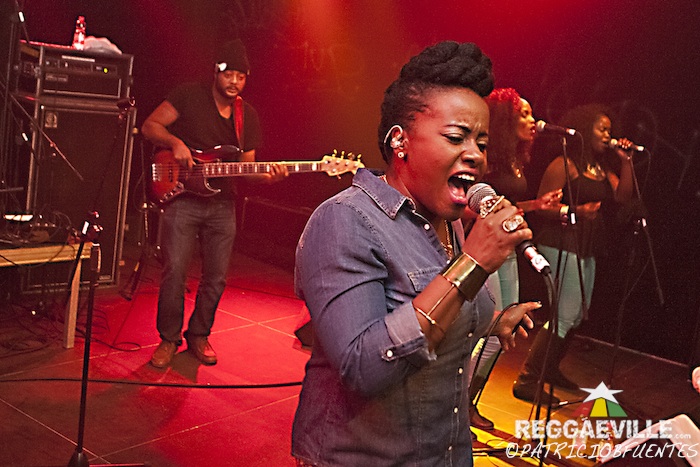 Her performance of Reggae, Don't Let Me Down and especially Steppin Outta Babylon is dynamic and a vocal revelation, but the audience is slow to react. Some movement comes in with her cover of No No No, and during the subsequent Blessing (in which keyboarder Spider takes Alborosie's part), she succeeds in having men and women sing to each other. The excursion into Rocksteady (with Simmer Down and another foundation piece) keeps up the vibe, and a glimpse of Busy's Missing You during her own Wifey on the Heart & Soul riddim caters for additional cheers. After the beautiful Love Song she asks everyone present "Are you afraid of who you are? Of what you look like? No! So sing along with me!" and some (not all) people do so in I'm Not Afraid. Etana leaves stage just after midnight, only to come back once more for I Rise and a rendition of the Rastaman Chant.

Again there is a short break, after which the great Michael Rose appears. What Is Life and Sponji Reggae are a bit disrupted by technical problems (the mic was on overdrive), but Anthem (Living Dread) booms clearly from the speakers. Again I marvel at the relative inactivity of the audience - I mean, if they don't freak out for Romain or Etana, surely they must be here to see Mr. Rose?! The spell is broken with Stalk Of Sensimilla – everybody knows and cheers that. Subsequent Black Uhuru hits like Plastic Smile, Shine Eye Gyal, Guess Who's Coming To Dinner and General Penitentiary are at least reservedly celebrated.

Throughout Michael's show, Etana takes her time to talk to the fans at the merchandise-stand, shaking hands, giving autographs, smiling for pictures. Says she: "After every show I look forward to this moment! To be in contact with my fans is really important to me." Especially the T-Shirts with the imprint One Perfect Love seem to fly off the shelves. Asked for their inspiration, the artist explains "That's simply what our world needs most. One perfect love for everyone!" And even after a full month of touring, she is excited to do the final show in Amsterdam on Sunday night. I guess she's not called The Strong One for nothing.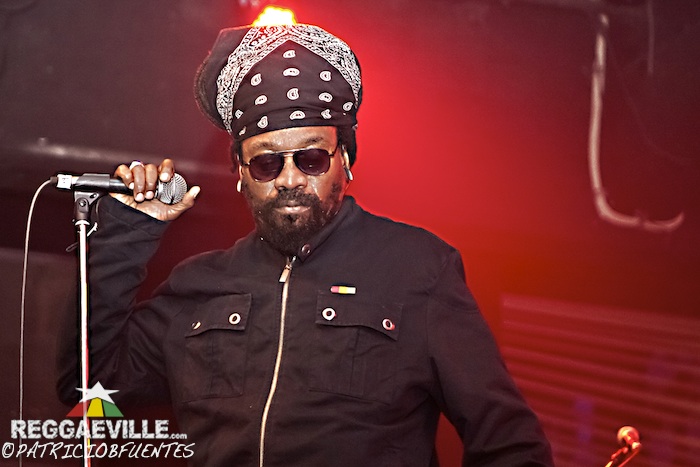 Meanwhile, Michael Rose finishes his show with Solidarity and Abortion, and even though some folks have left already (certainly in order to catch one of the last trains), he is applauded by those who stayed until the very end and are rewarded with some warm words of gratitude by the singer. A wonderful night thus comes to its close and people slowly trickle out of the building, heading home. The only thing in need of improvement is really the dynamism of the massive. Artists need our enthusiasm and energy to be at their best on stage, so let's give it to them without holding back. Berlin, be ready!


CHECK THE PHOTO GALLERIES HERE: