Review: Cornell Campbell in London, UK 2/13/2014
02/18/2014 by Angus Taylor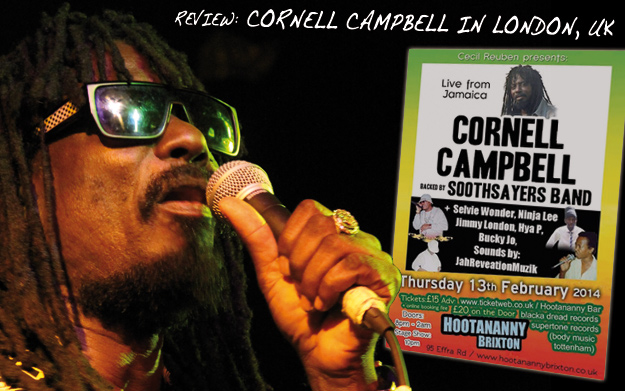 Last time veteran singer Cornell Campbell was in London town with reggae Afrobeat horn-led collective Soothsayers was one of the hottest days of July at Lambeth Country Show. Having shared a bill with Max Romeo in sun-drenched Brockwell Park they followed up with a sweaty launch party for collaborative album Nothing Can Stop Us in the basement of Caribbean restaurant Cottons. This time Cornell chose one of the most freezing nights of February to appear at Brixton Hootananny with the group – as part of an eight date English tour funded by the Arts Council and the Performing Rights Society. And it was proof of their mutual reputation as live performers that the place was nearly packed when many a lethargic Londoner might have preferred to stay in.

A late start to a large number of local acts delayed the main event. Deejays Selvie Wonder, Buck Jo, Hiya P and three-way ensemble Ninja Lee performed to famous backing tracks. Given the headliners it was a very uptempo and dancehall oriented choice and their forays into singing were less successful than their fastchat – but respect is due to promoter Cecil Reuben for always supporting diversity and community at his events. The polite applause for this segment was dwarfed, however, by the reception for the evening's first true singer, Jimmy London. He looked bemused on stage yet his voice, while ragged, still carried raw emotion for I'm Your Puppet, Bridge Over Troubled Water, Til I Kissed Her and A Little Love.

The concert was billed as "Cornell Campbell with Soothsayers band" rather than the usual "Cornell Campbell meets Soothsayers". So when trumpeter Robin Hopcraft, saxophonist/flautist Idris Rahman, and the rest of the musicians took their positions at midnight they did not play their customary full mini-set of their own prior to bringing Cornell on at the midway point. Instead, they cleverly lulled roots purists into a sense of security with the opening bass pulse of Natural Mystic before turning Bob's classic into a sprawling Afrobeat instrumental. Brixton's European Shaka disciples seemed baffled but many tricolour tams were bouncing. In an interview last year Cornell told Reggaeville the Londoners bring "A different flavour. You have reggae but you can divert it with different flavours like the multi-cultural side to the music – a new thing where everybody in every nation can really participate with it. It's like coffee – sometimes you drink it without milk and the next you add sugar. I can't drink it just pure coffee."

As Soothsayers gave a short demonstration of the reggae end of their remit with We're Not Leaving, Cornell himself arrived in his trademark dark clothing and sunglasses. He sang his cut on the rhythm – I'll Never Leave - to a house as hot (with bodyheat) as the park in July. "When you're working you just want to deliver the message to the people" said Cornell of his choice of attire "You don't think about clothes and heat and those things. It's after it's over that you realize that you're hot!"

He didn't move much on stage but his voice, a high tenor with flecks of falsetto did all the moving. Cornell's 1973 debut LP for Bunny Lee, due to a mix-up over getting a photoshoot done, famously featured an ice cream on the cover. And there is something undeniably ice cream like in Cornell's rich milky sweet timbre – even when crooning "set up the microphone" as a rebuke to the engineer. Regardless of the mic and the cold, Cornell's vocals were arguably better than at the Country Show as he shared Bunny Lee and Studio 1 70s classics such as The Gorgon, No Man's Land and Queen of the Minstrel. The band, with Twinkle and Misty In Roots drummer Barry Prince replacing Pat Illingworth, played these a touch faster than normal, without rewinds, as if running behind the clock left them worried about the curfew.

Having sated us with his early hits Cornell spoke. "Thank you. This is the new album. An original thing" as an intro to songs from Nothing Can Stop Us – ranging from the funky reggae of the title track to the more nebulous afro-dub areas like We Want To Be Free. The players' pace had relaxed by their revisit the 80s with Mash You Down and a rapturously received 100lbs of Collie. Cornell said "Thank you and goodbye" and decamped at the one hour set mark.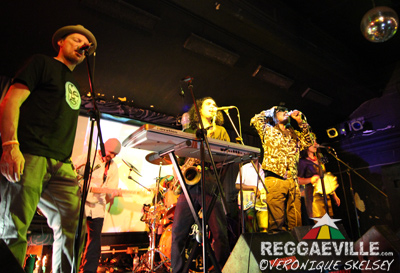 "Do you want more?" asked compere and journalist Mandingo, and despite the prospect of less sleep than intended, the people did. Cornell returned for a further 30 minutes – bearing additional album material like the soulful lovers of There's a Fire Burning, the moody fusion of Conqueror and a remake of 1973's Jah Jah Me No Born Yah decorated with Moorish surf runs by lead guitarist Patrick Hatchett. Finally, in a moment that looked unrehearsed, they went back to the 80s with Boxing and Rope In where Cornell demonstrated a little known ability as a sound system deejay. The deep roots of My Country brought the show to an end at half past one. "I don't sing like some singers" says Campbell of his music "I sing reality things. I don't write simple music. My messages are strong so people can hear them. I sing to teach people things."

Only a slightly speedy beginning suggested the consummately capable Soothsayers were under any kind of pressure. "I like moving with professional people and I don't move with people who don't have nothing to offer" explains Cornell "They have talent and are great and brilliant, so we don't have ifs and buts. It's like a chemistry. They know what they're doing and I know what I do so every is put together and is what we expect."

Due to the front toilets being fenced off the venue's security were busy with a stream of concert goers trying to access the back bar while keeping non-paying customers out. But it was a testimony to Cornell's voice and catalogue that the staff were singing loudly and joyously when dealing with a stressful job.

"You see we're trying to move better and do better" is Cornell's assessment of a career that has lasted since 1956. "We want to reach heights. Professional heights. We're professional already but we still want to go further. A man who thinks they are finished, it don't make no sense. You have to go on all the time as long as you are alive."


PHOTOS BY VERONIQUE SKELSEY

WATCH A LIVE VIDEO OF NO MAN's LAND BELOW