Review: Bunny Wailer in London, UK @ Electric Brixton 7/27/2014
07/30/2014 by Angus Taylor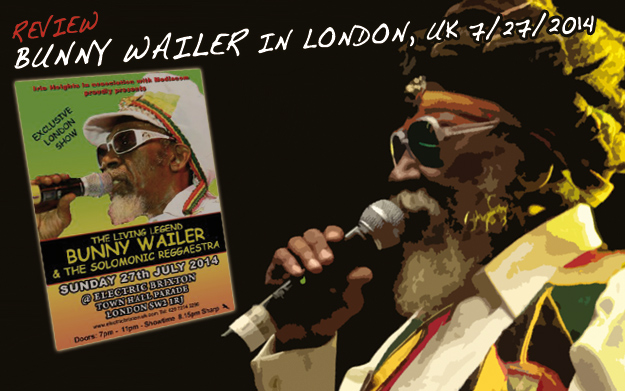 "It's been a long time" purred Bunny Wailer to a packed and reverent Electric Brixton. He could have been referring to the four years since he last appeared in London. Or he might have meant the five decades since he took up with Bob Marley and Peter Tosh as the Wailers in Trenchtown.

Whatever he intended, the people were extremely happy to see him. At least half the audience appeared to be Rastafari: here to witness the surviving Wailer perform against a boxing-ring-sized backdrop of Haile Selassie (whose birthday passed the preceding Wednesday). Their patience was rewarded after logistical holdups backstage and on the door resulted in the main event starting at twenty to ten - just enough time for a respectably sized set before 11's curfew. (Although it should be disclosed that Reggaeville missed the support acts due to flying in from France that evening).

The Solomonic Reggae-stra - boasting a three piece horn section and the great Dwight Pinkney on guitar - opened with the Skatalites' Freedom Sound. Backing vocalists Geoffrey Star and Empress Chai gave a taste of their harmonies. Then as the band struck up the Wailers' Rastaman Chant the living legend Mr Livingstone sauntered on stage wrapped in mirror shades and a red gold and green scarf down to his feet.


He commenced with 1989's gospel-satirising Bald Head Jesus, continuing the Nazarene theme on Rastaman – the first in a series of songs from the 1976 album Blackheart Man (which wrote the book on that distinctly quizzical otherworldly 70s roots music). Armagideon felt no less relevant in today's troubled world. Blackheart Man itself (his most popular song according to a front row straw poll from compeer Daddy Ernie) showed how far his faith has come. The El Tempos adaptation Dream Land was drowned out by whistles as it rewound. He moved into the rub a dub era of the 80s – including Cool Runnings and Rock 'n' Groove - and back to the ska and the Wailers with Simmer Down and to colleague Bob via a closing No Woman No Cry.

Though Bunny's voice is not the Curtis Mayfield falsetto from the Burnin' days his singing and husky spoken whisper were cutting and clear (unlike an irascible 2007 Brixton Academy appearance hampered by bad acoustics). He didn't move much onstage. There was no need. In reggae there are few alive who command with more authority. He could wheel a tune by gently rolling his "rrrrr's". When he spoke we listened.


"I remember reggae music began right here in England" he recalled, invoking the crucial journey with Peter and Bob to the capital. "When it began the faith and culture of Rastafari was not known." It was a poignant moment spliced with honest reality humour "So we came here not just thinking about this great music - we came thinking about making some money".

No doubt Bunny Wailer has played many dates that impressed on his European tour. But despite the slight delay getting started it is doubtful any gathering was quite so imbued with a sense of shared history, culture and understanding.


An original Jamaican artist, a full house, a full band and no complaints about the sound. This is how reggae in London should be. The Electric is becoming the choice Brixton destination for the slightly larger scale show.