Video: Bob Marley Funeral May 21st 1981
05/21/2011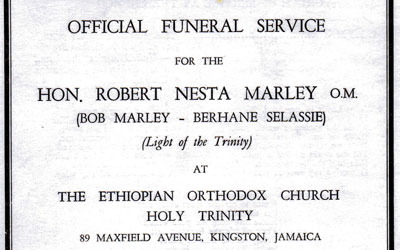 30 years ago! This is the text of the cover from the official funeral program:
OFFICIAL FUNERAL SERVICE
for the
HON. ROBERT NESTA MARLEY O.M.
(Bob Marley - Berhane Selassie)
(Light of the Trinity)
AT
THE ETIOPIAN ORTHODOX CHURCH
HOLY TRINITY
89 Maxfield Avenue, Kingston, Jamaica
8.00 - 9.00 a.m.
AND
THE NATIONAL AREA
11.00 a.m.
THURSDAY MAY 21, 1981
OFFICIATING:
HIS EMINENCE ABOUNA YESEHAQ
ARCHBISHOP OF THE ETHIOPIAN ORTHODOX CHURCH
IN THE WESTERN HEMISPHERE
Assisted by Priests and Deacons of the Etiopian Oerthodox Church in Jamaica
SERVICE WILL BE PERFORMED IN GEEZ. AMHARIC AND ENGLISH