Preview: Bob Marley Film Premieres @ Berlinale in Germany 2/12/2012
01/27/2012 by Larson Sutton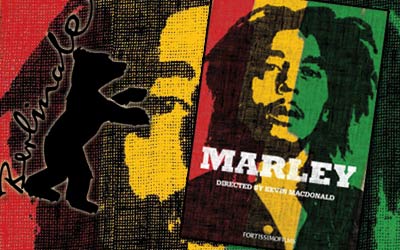 Marley, the new documentary by director Kevin MacDonald will premiere on February 12th in Germany at the Berlinale - 62nd International Film Festival. The film, which has spent years in development and went through several directors in the process, offers the most complete cinematic thought on the life of the Jamaican musician. With archival interviews of Marley mixed with present-day narratives from family, friends, band members, and associates, the authenticity of its portrayal is not only validated, but sheds new light on a subject that has been covered seemingly so thoroughly prior to MacDonald's latest.

Bob Marley, born to the hills of Jamaica's countryside in 1945, rose to international success in the 1970s first with the Wailers, alongside Peter Tosh and Bunny Wailer, then as a solo artist fronting Bob Marley and the Wailers. Known mostly as a style unique to the tiny island nation, reggae became a prominent musical genre spread by Marley and his contemporaries as they toured the globe, finding audiences eager for this groundbreaking approach and its social message.

Reportedly, it was MacDonald's recent film work in Africa on The Last King of Scotland that exposed him to the continued influence Marley and his music has, even some three decades after his death. Consequently, the film provides an indication of the worldwide reach of the man both during his life and posthumously. With blessings from the Marley family and estate, access to recordings, photographs, and interviews that may have otherwise been denied bolster this 2½ hour portrait. Though it may be classified as a documentary, it follows a traditional story arc to great success. While much of the factual information presented has been available before, it is the way it is delivered here, through the voices of those that were there, the faces of those that lived side by side with the legend, that best explain the human being that was Bob Marley.
Besides the world premiere in Berlin on February 12th, the film will be premiered in North-America @ SXSW Film Festival in Austin on March, 11th.

The theatrical release is scheduled in the US for April, 20th.


Below you can watch short interview by director Kevin MacDonald: