Review & Photos: Beenie Man Birthday Bash in New York 8/20/2011
08/23/2011 by Meg Majors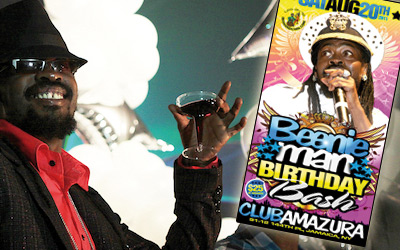 Review: Beenie Man Birthday Bash in New York @ Amazura 8/20/2011
I arrived at Amazura around 2am, happy to see the club more than half full. This was a good sign, because in New York nothing big happens before 2:30! The Irish and Chin event was off to another good start.

Around 3am the King of the Dancehall, Beenie Man, was escorted through the crowd to his VIP area that was set up in front of the stage. White curtains were draped around the exclusive area with balloons bellowing around the entire venue. Huge gold lion statues welcomed (and protected?) the guest of honor at the VIP entrance gates. For such a big venue, they did a good job at creating a lounge feeling in the partitioned area.


The crowd was in good spirits and when the DJ announced that the dance floor was officially open, the crowed poured to the center of the club. Needless to say, everyone wanted to catch a picture of Beenie Man up close, so the front of the club turned in to a massive traffic jam, but eventually they let all the media and special guests through to the VIP lounge. The celebrating really started once Beenie was in the house - it was a not only a celebration of his 38th Birthday, but also for him getting his US Visa back. The artist had his US Visa revoked in 2010, so its great to have him back for performances on US soil! Surely, he will be making up for lost time.

The DJ of the night, Steelie Bashment, invited audience members to grab the mic and give shout outs and sing Happy Birthday to Beenie. The DJ Booth was at the opposite end of the club, so it was a good effort in unifying the crowd and making it feel "personal". From the start, it didn't look like there were any plans for Beenie Man to perform, due to the fact that though he has his Visa, his work permit is yet to come through, but there were 10+ years of Beenie Man videos running silently on huge screens all night. Plenty of his songs blared through the speakers and he seemed to definitely be enjoying himself, glass in one hand, something else in the other.
The enormous cake adorned with his photos and a candy version of him on a throne...in true King of the Dancehall fashion was passed around to everyone. Two audience members where chosen to cut the cake with him and received free tickets to the upcoming Reggae Rhythm and Blues Festival on September 4th. The party went on until house lights came on close to 5am. If you missed the Birthday Bash and want to see Beenie Man perform (plus Mavado, who just got his Visa back, too), don't miss the upcoming Reggae Rhythm and Blues Festival! Reggaeville will be there covering the entire event.