Review
Album Review: Assassin - Theory of Reggaetivity
02/20/2016
by Dan Dabber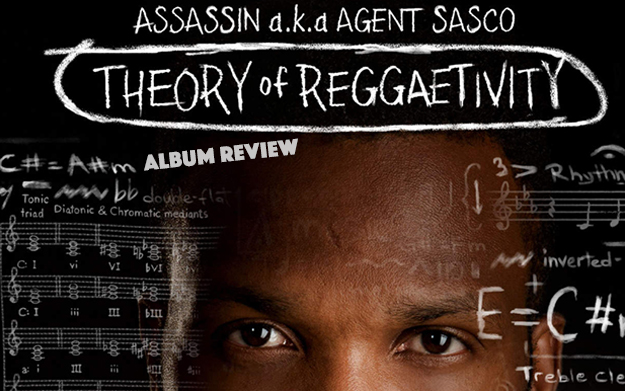 Whether you know him by his original moniker, Assassin, or by his most recent and more Googleable appellation, Agent Sasco, the man who was born Jeffrey Campbell has one of the most recognizable, powerful, and respected voices in dancehall music. Since his emergence in 2000, Assassin has had a steady stream of hits in Jamaica and has built an impressive and incredibly large catalogue of lesser-known tunes that rarely demonstrate anything less than extraordinary creativity and vocal talent. His abilities have taken him to musical heights unaccessed by many of today's Jamaican artists, having appeared on Kanye West's I'm In It, Kendrick Lamar's powerful The Blacker The Berry, as well as Lil Jon's Turn Down For What Dancehall Remix.

Though Assassin has made a name for himself over the past sixteen years as a dancehall artist, the deejay has also demonstrated that he can apply his talents to reggae riddims and conscious themes. His newest album, Theory Of Reggaetivity, is a testament to his musical diversity as well as an homage to the genre that made Jamaica a global music hub. The project has a cohesive thematic thrust as well as a minimum of songs that have appeared on past riddim jugglings, and both are qualities that are rare for an album from a contemporary reggae/dancehall artist. Even the two previously released tracks, Mix Up from Ranch Entertainment's Heaven Bless Riddim juggling from 2014 and Country Bus from Chimney Records' Country Bus Riddim from 2015, not only fit the musical theme and the subject matter of the album, they serve as corollaries to the more instructive tracks like Theory Of Reggaetivity and Reggae Origin. In short, the album feels like a university class on reggae music and the social influences that have shaped it. With his lyrical precision and ability to impose his unmistakable vocals on any musical style, Assassin is a professor that is more than apt to teach such a class.

The abundance of great music from Theory Of Reggaetivity stands as a metaphor for Assassin's career as a whole, however there are a few cuts from the album that stand out and deserve closer examination. The appearance of popular reggae singer, Chronixx, will enhance any song, which is the case in No More Slaving. This emotional song also includes some of the more interesting instrumentation on the album, employing an uptempo, horn-heavy, reggae vibe that is akin to the ska music that historically preceded the development of roots reggae. Feel Highrie, produced by another popular reggae artist, Protoje, may be the highest point of Reggaetivity, with a brilliant dub-wise backing track and some of Assassin's most intricate uses of cadence and melodic singjay styles. Although the name may suggest an association with marijuana, the song is actually about a musical high generated from experiencing reggae in its purest form.

Theory Of Reggaetivity includes some tunes that expand beyond the traditional reggae canon. The aforementioned lyrical masterpiece, Mix Up, for example, is backed by a riddim with a distinct 80's dancehall feel, and is loosely based on the Studio One staple, Heavenless by trombonist, Don Drummond. Mix Up represents another chapter in reggae history, and Assassin infuses it with his own take on classic Jamaican wordplay and humor, reminiscent of early dancehall artists like Yellowman. Africa is also infused with dancehall rhythm, but in a more modern style. However, the Afrocentric themes of the tune correspond with the vibe of the project as a whole, reminding the listener of the cultural roots of Jamaicans and their music. The song that may depart most greatly from the album's otherwise consistent musical theme is Crazy, which includes an intermittent reggae skank with a more bouncy hip hop vibe than a distinctive Jamaican rhythm. The lyrics also stray from the album's core subject matter by describing love-induced insanity that is counterbalanced by the sultry voice of featured Australian artist, Elesia Iimura. Though a departure from the rest of the album, Crazy is so well executed and expertly produced that it does not register as a bump in the road, but serves instead as a nice break from the professor's lecture, allowing the students of Theory Of Reggaetivity a chance to stretch their legs and catch their breath halfway through the class.

Although Assassin is sixteen years deep into his career, it is really his expanding fan base who are the late bloomers. He has always had the necessary skill to affect audiences beyond the Caribbean, and those in the know have been aware of that for quite some time. But there is nothing bitter, pretentious, or even slightly forced about Theory Of Reggaetivity. It is a project that feels like a genuine and personal expression of the artist. For this reason the album is naturally accessible on a multitude of levels and has the potential to capture the heart of anyone who owns a Bob Marley record, and even the few who do not. Theory Of Reggaetivity is likely to solidify Assassin's existing following as well as grow his market further and, at the very least, this record will be high point for authentic reggae music in 2016.


---
Release details
Assassin - Theory of Reggaetivity
DIGITAL RELEASE [Germaica Digital]
Release date: 02/19/2016
Tracks
01. Theory of Reggaetivity
02. What Is Reggae? (AC, LC, JC Intro)
03. Reggae Origin
04. Health and Wealth
05. LL (Intro)
06. Feel Highrie
07. Mix Up
08. Crazy feat. Elesia Iimura
09. Africa
10. J-O-B (Skit)
11. Slave No More feat. Chronixx
12. Stronger
13. Day in Day Out
14. Country Bus